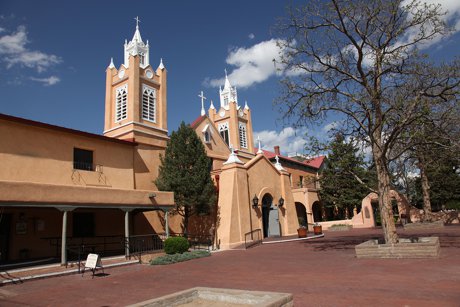 Explore historic Albuquerque property with visits to Old Town. Old Town Tours give extra depth to Albuquerque excursions and feature an array of themes. Local experts know the lay of the land and lead the way during walking tours. Guides have the gift of gab relaying interesting tidbits of history and trivia throughout the stroll.
Historic tours are great for visitors and residents living in Albuquerque alike. Up to two hours is spent learning the ins and outs of "Duke City." Known as one of North America's oldest towns, the history is as rich and wild as the landscape surrounding it. Highlights include a spotlight on civil war history, pioneers traveling by and the Santa Fe Trail Route. Architectural treasures are scattered throughout creating an appreciation for those viewing them.
Get to Know the Ghosts Living in Old Town Albuquerque
When darkness strikes Old Town Albuquerque property comes to life with Ghost Tours. Creeping along the streets tour guides keep an eye out for high spirited ghosts and ghouls. Lantern bearing groups seek out the restless ghosts with stories to tell. Old Town has been declared one of the most haunted towns on the continent and the guides know the stories that proves it. Learn the legends and embrace the folklore of this scenic city. A second tour, Moonlight Ghost Tours, takes place later on in the dead of night and is ideal for serious specter stalkers.
Scavenger Hunts are a fun twist on self guided tours. Entertaining for families, groups can pick up a scavenger hunt package at the Old Town Tours Ticket Window. Packets include a rustic map of Old Town Albuquerque, a list of questions and more. Scavenger hunt teams head on out to uncover details and unearth answers. The fastest team to gain the answers and return back wins a prize.
There's nothing like a walking tour to gain an intimate feel to a town or city. Book an Old Town tour today and get to know the wonder of Old Town Albuquerque, New Mexico.